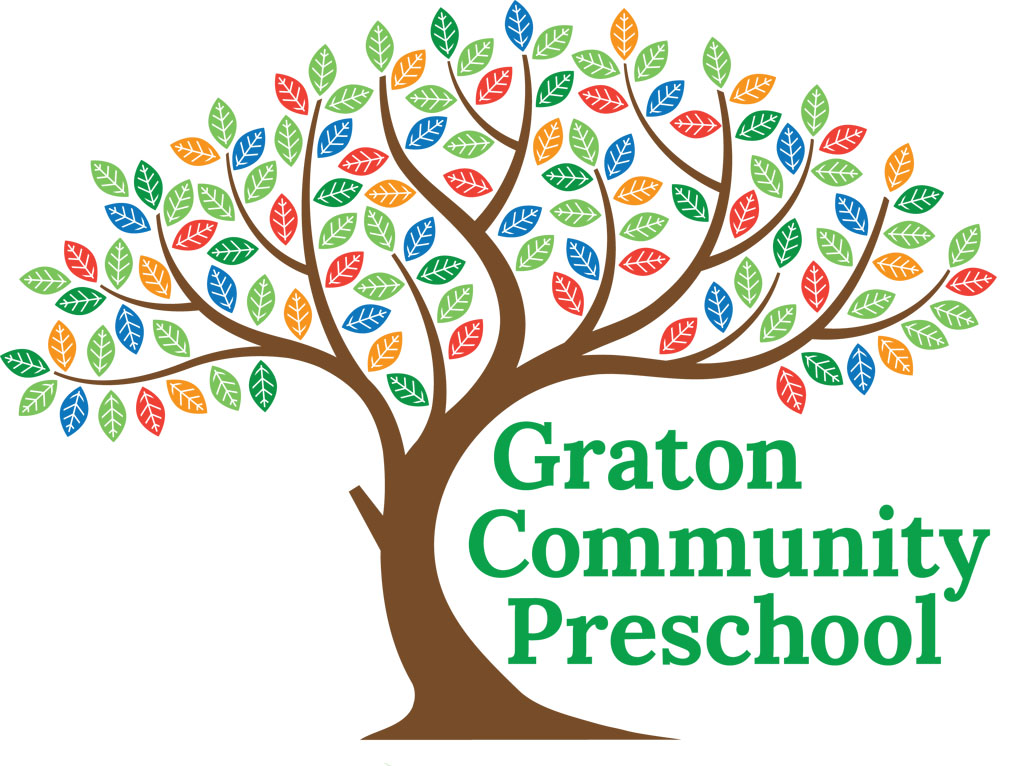 Serving the Families of Graton, Forestville, Sebastopol, Occidental, Monte Rio, Guerneville,
and the surrounding West County communities
7am-6pm Year Round Program
Ages 2.9-6 years
Philosophy of Education:
Graton Community Preschool (GCP) is dedicated to providing the highest quality of care in a safe and nurturing environment. We believe that children are intrinsically motivated to learn, and it's our job as their teachers and guides to offer them experiences that support their interests. The classrooms and our outside space are carefully prepared to stimulate their curiosity and offer them ample opportunities for stimulating learning and discovery.
Our schedule is flexible, our curriculum is open-ended and guided by the children's interests. We use the NON-BIAS model that is inspired by the Montessori method of education. We celebrate the changing seasons and family culture.
We provide an environment which encourages discovery, experimentation and the opportunity to see the results of one's actions
We develop activities that encourage growth based on the children's skills and
activities.
We encourage problem solving and reflection by asking open ended questions, providing information in response to the children's ideas, insights, and concerns.
We positively assist children in their interactions with each other and offering opportunities for cooperative learning.
We appreciate the individuality and diversity of the children and their families.
We acknowledge that children's play is their work.
All personnel are fully certified preschool classroom teachers. Additionally most have advanced training in early childhood education.
We encourage parental involvement in the classroom and hope to create an inviting community where all are welcome. Not only will your child benefit from seeing you work and play in our school regularly, you as the parent will have the opportunity to observe your child and their teachers working and learning together.
Graton Community Preschool is a community of learners made up of children, their families, and the GCP staff, who are all committed to offering a safe, caring and nurturing environment for everyone. Our goal is to offer high quality care for children (ages 2.9 through 6 years and are toilet trained) to the West County Communities of Graton, Sebastopol, Forestville, Occidental, Monte Rio, Guerneville, and the surrounding West County Communities. We are open Monday through Friday, 7am-6pm on a year-round schedule.
A Child-Centered Curriculum:
We strive to provide a rich learning environment, where the teachers and children work together to create open-ended projects. These projects are driven by the interests of the children, while guided by their keenly observant and creative teachers. The children are allowed to move about the inside and outside spaces in a child-centered curriculum, where they are free to join in the activities offered, yet they are not required to participate, as we do not believe it's developmentally appropriate to force a child to sit and participate if they are not willing. Children will be encouraged, but not required, to attend most activities offered. We believe this creates a much more peaceful atmosphere, while reducing the number of struggles during periods of transition. This also allows the children the time they need to process their feelings and newly acquired skills in a safe space, at their own developmental pace.
A Reflective Teaching Practice:
In a thoughtfully prepared environment, inside the classroom as well as outside on the yard, the children will have ample opportunities to develop new skills in the areas of Social and Emotional Development, Literacy, Science and Scientific Inquiry, Small and Large Gross Motor opportunities, Art as Process, Movement, Music and Dance, Performance, Imaginative Play and Critical Thinking Skills. Guided by a Reflective Teaching Practice, the teachers will carefully observe through sight and sound, the children at play. From these observations, the teachers then develop curriculum according to the children's interests and areas of development warranting attention, such as practicing patience, waiting for a turn with a toy, or expressing our feelings when we need something. A Reflective Teaching Practice allows the teachers to really deepen their understanding of each individual child in the program and tailor a curriculum to meet their needs and interests.
A Community of Learners:
At Graton Community Preschool, we strive to create not only a safe, loving and creative environment for your child but a true community of folks working together each day to make our world just a little bit better. We instill the values of Selfless Service, Charity, and Caring, in the hopes of supporting our families as members of a community of charitable learners and servers. In an effort to create connections and strengthen them, we encourage parents to volunteer in the classroom or at the school to help the school in a variety of ways. For example, perhaps you are a carpenter, and want to build us a stage or a loft- or perhaps you are a stay-at-home parent who has time to work in our class each week, reading stories in the book area or leading a special baking project. Your presence in the classroom and your commitment to investing your time and talents in our school, strengthens our community as well as our connections to each other. We believe children learn best from everyone in myriad ways. We have a nature-based curriculum and will be indoors and outside through all kinds of weather, unless it is a heavy rain. Therefore, we ask that you send clothing to keep at the school that will protect your child during those periods of inclement weather.
At the time of enrollment in our program, you will have the chance to discuss with the Director your special skills and interests and how you would like to help fulfill your 12 hours a year commitment to Graton Community Preschool. We will also post current needs on the Parent & Community Info Board located above the sign-in sheet, so if you're unsure of how to help, we'll help you find a way to become involved.
General Information:
Days and Hours of Operation:
Monday through Friday, 7am-6pm
We are closed for the following Holidays:
Christmas Eve and Christmas Day (a 5 day break will occur during the week of Christmas)
Thanksgiving and the day after
Fourth of July
Dr. Martin Luther King Jr.'s birthday
President's Day
Memorial Day
Labor Day
In addition, the school will close for one week during the Spring, and 3 days each year for staff development. Lastly, the school will close the first week of August for general maintenance, cleaning, and staff training.
Admission Policies:
Our goal at Graton Community Preschool is to provide a safe, nurturing environment for children who are ready for group experiences in a school setting. We ask all prospective families to visit our school for a tour before applying to our program. We offer a mixed-age classroom, licensed for 30 children per day. We keep our ratio of children to teachers at 12:1. If you are interested in applying to the program after seeing our school in action and meeting with our staff, please fill out an application form and submit a non-refundable $100.00 application fee for each child. Returning families are also required to fill out a yearly application and pay the fee, due in early February each year. Applications and registration are ongoing, and once we are full, new applicants will be placed on a wait-list.
 Signing In/Out:
The sign in/out sheets at Graton Community Preschool are legal documents which transfer the responsibility for the child between the preschool and the child's authorized representative. It is critical that your child is signed in and out with your full and legal legible signature with the time of departure and arrival. Any adult picking up your child from school must be authorized to do so in writing and will be required to show a valid photo I.D. if the staff is unfamiliar with them. There is a late pick up fee of $5.00 a minute after our closing time. This will be reflected on your next month's bill.
 Snacks and Lunches:
Graton Community Preschool provides a healthy, organic well-rounded snack twice a day: in the morning Core Program and after naptime in the afternoon. Snacks will include a protein, complex carbohydrates, and either a fruit or vegetable. Some favorites include hummus and carrots. We are a peanut-free school, but allow other nut products such as almonds and pine nuts, depending upon the needs and / or allergies of the current students. The health and safety of our students is our number one concern and we reserve the right to change our food policies at any time in order to keep our community healthy and safe. Thank you for your understanding. Please provide your child with a healthy, well-rounded lunch each day. We do not allow sugar or desserts in our lunches so please save those for an after-school treat! Also, please provide your child with a labeled water bottle that will remain at school.
List of items that you will need to send with your child to GCP:
Please put your child's name on all items.
Every child will have a space to store these for those fun splashing in the puddle/garden and
just plain fun outdoors days.
Water Bottle
Mud boots
Raincoat
Hat
Sweater
Change of clothes
Indoor shoes or slippers
Medication Policy:
Graton Community Preschool Staff shall follow the rescriber/physician's instructions regarding the medication for children with chronic illnesses or ongoing short-term medication prescribed by a physician. All medications shall be clearly labeled with the name of the medication, the doctor's phone number, and child's complete name. We will not administer over the counter medication. If your child is sick, please keep them at home until they are no longer communicable. If your child becomes sick at school, we will call you to pick him or her up. Please make sure to keep your contact and emergency forms up to date so we can reach you if necessary. If another person will be picking your child up make sure that person is on your release form and that they have state ID with them.
Staff is aware of their responsibility to maintain the confidentiality of health information pertaining to a child or non-minor dependent, as required by applicable state and federal laws. All information and records obtained from or regarding the child or non-minor dependent shall be confidential unless otherwise provided by law.
Minor Injuries and Medical or Dental Emergencies:
In the case of accidental injury, the staff will administer first aid to your children, accompanied by an "ouchie report." In the unlikely event of a major medical or dental emergency, we will follow a strict adherence to our emergency procedures in which we assess the severity of the situation and either call you or an emergency contact, the child's doctor or a consulting doctor, or when necessary, an ambulance.
Emergencies and Natural Disasters:
In the event of an emergency or a natural disaster, the Director will determine school closure. Parents will be notified as soon as possible via telephone/text communication if school closure is necessary, and emergency procedures have been put into place. Should an emergency occur while children are in attendance, the Director will assess the need for early pick up and begin contacting parents. If you cannot be reached after many attempts, we will try to reach your emergency contacts listed for your child. Should we need to evacuate the school, our temporary relocation site is the Church of Christ at 8897 Donald Street right next door. Oak Grove Elementary is the second temporary relocation site. It is located at 8760 Bower Street,
Sebastopol, CA 95472, just up the hill from our school.
Discipline Policies:
Graton Community Preschool uses a non-punitive approach to working with children, we do not punish children with our words or our actions. We use redirection when the children are engaging in behavior that is not appropriate with reflective, non-punitive language. For example, if we see a child throwing items over the fence, instead of yelling, "No throwing toys over the fence!" We instead might say, "I see you are trying to throw the toys high up and over the fence. Should we set up a target over here and see if we can throw these soft balls at them?" We offer alternatives, help the children identify their feelings, and then help them find the words to express those feelings. We also offer ample alternatives to help meet the developmental needs of our students. It is our job as Early Childhood Educators to utilize all the skills, abilities, patience and creativity we have available to us in our teaching "toolbox," to work with the children, acknowledge their feelings, and problem-solve strategies that help them navigate their emerging social worlds.
In the event that a child is having a difficult time adjusting to our program, we will call the parents to schedule a conference. At the conference we will address the concerns and work with the family to develop strategies for helping the child at school and at home. Over the next few weeks, we will have daily or weekly check-ins with the families, depending on the unique needs of each individual situation. If necessary, we will schedule another conference with the family after 3 or 4 weeks to discuss the progress of the plan and see if any adjustments need to be made.
In the highly unlikely event that your child is unable to adjust to our school environment, Graton Community Preschool will ask the parents to seek professional help from outside our organization, such as an Occupational Therapist or a Medical Doctor. If after professional evaluation and support we are unable to identify strategies that work for your child in this program, we will inform the family of the child's dismissal from Graton Community Preschool with a 30-day notice.
In accordance with Community Care Licensing, Title 22, section 101223.2 there is absolutely NO CORPORAL PUNISHMENT allowed at Graton Community Preschool. Any physical or punitive discipline, including withholding food, is absolutely never allowed.